"Why do I, a Japanese, play centuries-old classical music from the other side of the world today?" A question that has bothered Yuko since she was 5 years old and guides her so far.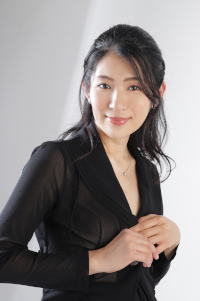 Her philosophical curiosity led her to the aesthetics department at the Faculty of Literature at the University of Tokyo where she wrote a dissertation which analyzes the conflict between current musicology, in particular where the old methods deifying the composers are criticized, and the performance of classical music, often based on their deification.
Yuko enters the master's course at the Musashino Academia Musicae in order to become a professional pianist. She discovered vocal music there by becoming an accompanist of a soprano. Passionated by music and literature, she appreciates being able to do both by accompanying vocal music. In parallel, she met Junji Mitsuishi, whose teaching fascinated Yuko: theoretical analyzes of music, historical and sociological interpretation, deep observation of human psychology and concrete techniques to realize all these preparations in music … Yuko felt, like never before, that classical music was something alive and that she could contribute to it. She decided to follow in his footsteps by becoming a "repetiteur".
With her solo piano master, for 5 years, Yuko performed in recitals, alone or in duet with a soprano, and in operas accompaniments. She found that, without the context, classical music was quickly bland, dead, and as if frozen in the distant past, and not necessarily experienced as much by the performers as the public. Debussy, Poulenc, Ravel … the French vocal repertoire that interests Yuko is less accepted in Japan, so she decided to study directly at the source.
At 29, Yuko left her post and her family in Japan to settle in Paris. At the École normale de musique de Paris and the Paris municipal conservatories (1, 10, 12), she polished her accompaniment techniques and sharpened her sense of language in order to coach singers. Yuko accepted all opportunities to gain experience: accompaniment or assistant pianist for small projects Così fan tutte, La Bohème, The magic flute, Pelléas et Mélisande, etc. Since 2017, she has been accompanying singing classes at the conservatories of Chaumont, Cachan, Athis-Mons and Orleans.
As a precious memory, she remembers her first concert in Paris where the audience bursts out laughing after the hilarious words of a French melody. "Here, classical music is alive and lived. I wish more people could experience it."
This desire made her meet Maruska Le Moing and Tiphaine Chevallier, with whom she created the lyric show "Rencontres", a performance of vocal music for public spaces. This is the beginning of many shows and projects: "Youkali" for young audiences; "Casse-toi, Diva!", a humorous show for all audiences… To live music and its lyrics, and to share them: with this passion brought from Japan, she continues, from France, its multiple activities as vocal coach and pianist.
Available in